00000181-fa79-da89-a38d-fb7f2b910000KUOW is joining forces with other Seattle media outlets to highlight the homeless crisis in the city and region on Wednesday, June 29, 2017.The effort was modeled after a collaboration by more than 70 San Francisco outlets to focus a day of news attention on the issue and possible solutions.Read more about the Seattle project and check out our coverage below. Follow the city's coverage by using #SeaHomeless.HighlightsThe Jungle: an ongoing coverage project going into the notorious homeless encampment under Interstate 5.Ask Seattle's Homeless Community: KUOW is launching a Facebook group where anyone may ask a question about homelessness, but only people who have experienced it may answer. This was inspired by a recent event KUOW co-presented with Seattle Public Library and Real Change, where residents of the Jungle answered audience questions. No End In Sight: an award-winning investigative project from KUOW about King County's 10-year plan to end homelessness.
Nail in the coffin for Seattle's Jungle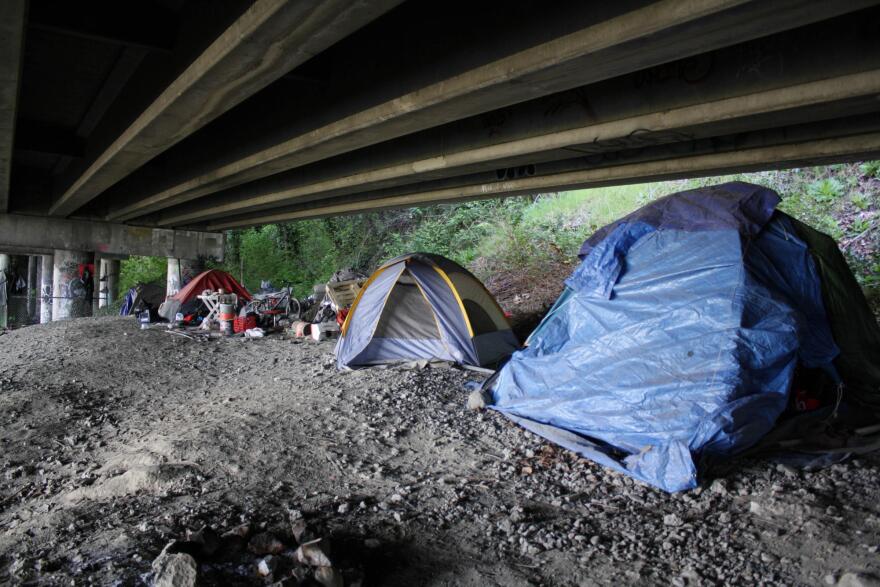 Seattle's largest homeless camp will be shut down.
The Seattle City Council voted Monday to allow state crews to clear the area under Interstate 5 known as the Jungle.
Now the Washington State Department of Transportation and city officials may enforce a deadline for remaining residents to leave the greenbelt.
Once there's a deadline, residents will have 10 days to leave. If they do not, police may be called to escort them out, although officials say they believe most remaining residents will leave voluntarily.
Once the area is clear, state crews will begin work on restoring access roads, clearing trash and debris, and repairing parts of the freeway.
This comes after months of outreach from workers with the Union Gospel Mission. Workers have met with Jungle residents since May.
A Union Gospel Mission report says that outreach workers made contact with 357 people, with roughly 70 accepting offers of help.
The city's resolution calls for the mission to continue outreach until the final deadline.
The city has provided Dumpsters and portable toilets at a "transition site" near the Jungle as an alternative camping area for residents.
Despite these measures, Councilmembers Kshama Sawant, Mike O'Brien and Lisa Herbold opposed the resolution to clear the Jungle.
Before voting, O'Brien expressed concern over the small number of Jungle dwellers who moved into stable housing.
"For those 28 folks, that's great," O'Brien said.
"My concern is the gap between the 357 people that were outreached to and the 28 folks that received housing," he continued. "That's a huge number of folks that didn't get housing."
The council meeting was interrupted by protesters who shouted, "Sweep trash, not people."
Sawant echoed their calls before voting no, saying the resolution effectively authorizes a sweep of the camp under I-5.
Sawant said the resolution is not in keeping with new city goals to make all outreach and services for the homeless focused on funneling people into stable housing.
"I believe it is disingenuous to tell people that they have to find permanent housing and that permanent housing is the solution if there is nowhere they can afford to go," Sawant said.
Proponents of the resolution say the area under I-5 is hazardous and must be cleared.
Councilwoman Sally Bagshaw, who voted for the resolution, said this is not the final step in deciding the Jungle's fate.
"None of us on the council believe that this is the end," Bagshaw said. "It does not solve the problems that residents have, it does not solve the people's needs underneath the greenbelt right now."
Bagshaw also said the city aims to increase affordable housing and to implement 24-hour shelters.
A state transportation official told KUOW they want to give residents a deadline as soon as possible.
It's unclear whether campers could return to the Jungle once the state has completed its work.
The Jungle has received intense scrutiny since a fatal shooting there in January.