What to do about guns? We asked gun owners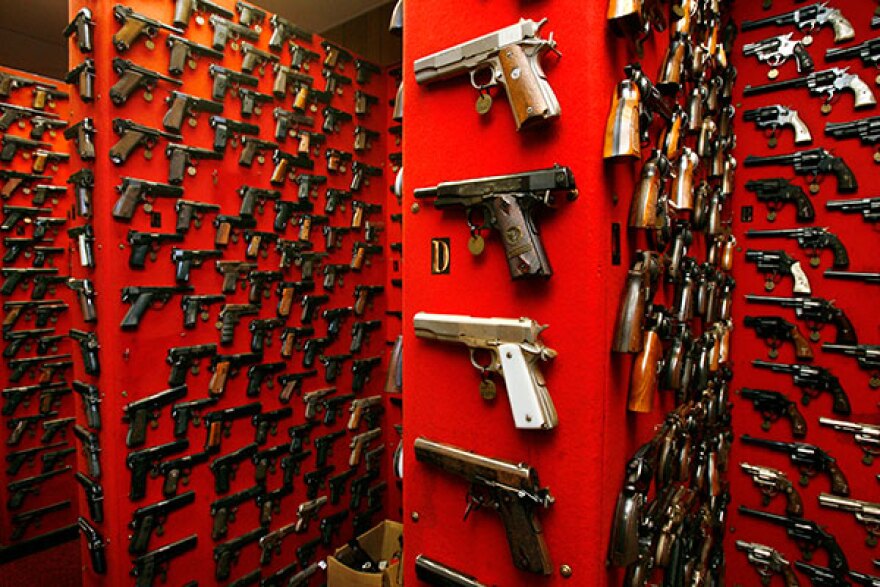 The mass shooting in Las Vegas has us asking – yet again – what we should do about gun violence.
The polarizing refrain "now is not the time to talk about gun control" comes up a lot in the wake of the attack. And Seattle Times columnist Danny Westneat said that's code for "we're not going to do anything."
Westneat wrote a column asking responsible gun owners to speak out on the crisis of mass shootings in the U.S. He has a theory on why this doesn't happen more.
"There's never really a platform in American politics for moderation and the pragmatic view of, yes we have a right to bear arms, but, no we don't have a right to bear machine guns or modified machine guns," Westneat said. "No one's giving voice to that."
"There's a lot of gun owners out there who also think what's going on in society is insane."
In that spirit, KUOW opened the phone lines to hear from gun owners.
JB, a gun educator in Chehalis:
"We keep talking about protecting people from weapons, and it's not the weapon that's doing the work. It's the person behind it. And so I think we should look to that rather than looking to the tool."
Anthony, in Issaquah:
"One thing about the Second Amendment I feel is, it is really unique on the planet. No government in the history of humanity has ever granted such a unique right to its people. And it's really astonishing to think of that concession to the citizenry. But now we have the NRA, which is effectively trying to train an army of zealots to fight the next crusade. And they seem to be really making regular people like me, and most people I know who own guns, look like that and sound like a bunch of crazy people."
Bob, in Snohomish:
"I own guns, and I like shoot them. They're fun to shoot… But I still don't see the point to having some of these high powered rifles and the quantity of bullets. It seems common sense that you don't need that, period… I don't know what the obsession is with those types of weapons."
Washington state has not banned semiautomatic weapons, nor does it limit the amount of ammunition a gun magazine can hold.
Where do we go from here? - Curated tweets by KUOW
Governor Jay Inslee explained to KUOW's The Record that a loophole in the law allows a person to take a legal semi-automatic weapon (where it only fires once every time the trigger is squeezed) and adapt it to a fully automatic weapon, as happened in Las Vegas.
"There is absolutely no reason that that this should have been legal," Inslee said. "The only reason for a fully automatic weapon is mass massacre — and that's what we saw."
Inslee is calling on the legislature to adopt new gun control regulations.
Bills proposed in the Washington state House and Senate would ban most purchases of military-style weapons — such as semi-automatic AR-15 rifles — and outlaw large capacity magazines. Magazines would be limited to 10 rounds of ammunition or less.
Inslee is also advocating laws targeted at securing weapons and preventing gun access for kids, as well as increased attention for mental health care and suicide prevention.
"The gun safety issue is not just a matter of dealing with the weapons themselves, but the broader part of helping people to prevent suicides and get to the bottom of this mental health problem," he said.
"Solutions to this problem are not mutually exclusive, and we ought to get together, eventually in a bipartisan way, to adopt the multiple things we need to reduce this."
Washington's House is majority Democratic and the Senate is majority Republican. Inslee seems optimistic that if Democrats controlled both bodies, more gun control measures would get through. But columnist Westneat doesn't necessarily agree.
"This idea that when Democrats take over the legislature that we're going to suddenly have gun control things moving I think is a fantasy," Westneat said. "We are so far from even getting a handle on military-grade weaponry. So the idea of actually changing gun culture in the country to the point where people can still have their Second Amendment rights, but aren't spree shooting — we have a tremendous path to go of that."
Produced for the Web by Kara McDermott. Paige Browning contributed to this reporting.