'Week In Review' Panel Gets Heated Over Gun Control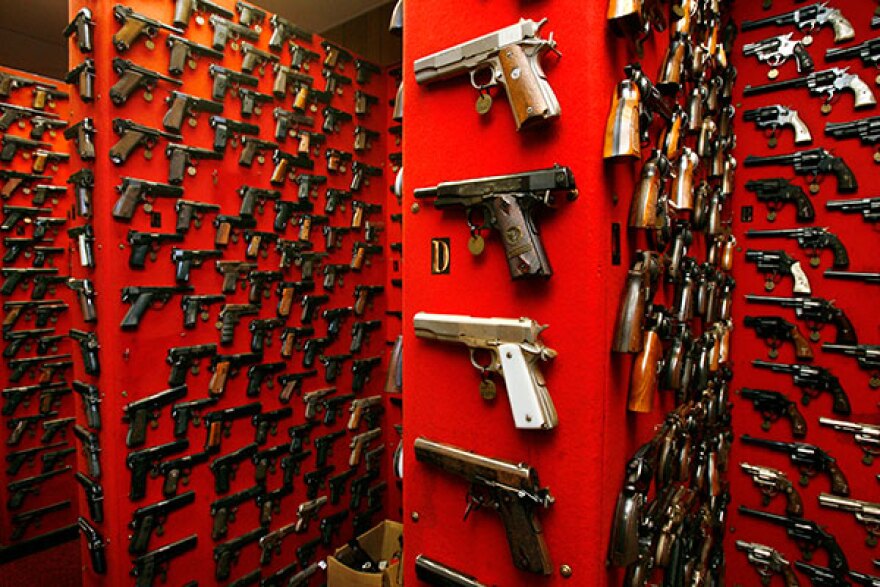 "Crazy." "Frustrated." "Cynical." "Disgusted. It makes me embarrassed to be a human being."
Those are some KUOW listener responses to the mass shooting that left 14 people dead in San Bernardino, California. Friday on KUOW's Week in Review, Bill Radke talked to Dan Savage of The Stranger, journalist and TV critic Melanie McFarland and former state Attorney General Rob McKenna about gun control in the aftermath.
Savage said he is barraged with messages from responsible gun owners saying mass shootings are making them look bad. He said those are the people who should be most concerned with setting a high bar for gun ownership – showing that being licensed and trained meant they could be trusted with a firearm.
"We would then infer from gun ownership this is a responsible person that you would want around in an emergency," he said. "All we can infer from gun ownership right now when we see some idiot with a gun is that could be one of those idiots with a gun. We have to assume that is someone who is dangerous."
McFarland wondered at national paralysis on the issue.
"What I'm frustrated about is that there hasn't been any kind of political action or any kind of wider action at all at a larger level, a nationwide level, to do something about this," she said. "And I'm referring both to our gun violence epidemic and mental illness."
Savage said he would like to see gun owners face the same kind of restrictions that are in place on abortions.
McKenna, who said he owns a shotgun that he inherited, said that wasn't realistic.
"There is a fundamental right to own a gun that many Democrats as well Republicans support. So if the implication is we just ban all guns, that simply is not going to happen. It's unconstitutional," McKenna said. "You'll never get the statutes through or adopted that would be required, or get a constitutional amendment adopted."
Savage pointed out that slavery also once was constitutional.
"There were lot of people who at one time believed it was very important for them to continue to own people," Savage said. "They had to lose."